If you're coming to visit Vienna with your partner, or you're here to find a partner, there are plenty of places that can be very exciting. Strip clubs and brothels aren't the only awesome places in Vienna. In fact, there are plenty of sweet spots that feel like they are built for romance.
Don't let the quiet and cultural vibes of this city fool you, as it is very naughty indeed. You can never know who's having sex behind the scenes of your favorite museum or cinema. Even if you're a native Viennese or you're just coming for a quick visit, you'll probably want to have some truly memorable sex. That is why we have compiled this list of the best (indoor) public places to have sex in!
Urania Observatory
The Urania Observatory has unusual opening times, which allows people to have a quick bang in the right hours. Come along and try it as so many others did before you. You can gaze at the galaxy while you're doing it and be part of a truly unique experience. Check out the observatory's working hours right here!
Hotel Orient
No other hotel is as perfect for a quick romp as Hotel Orient. It's paid by the hour and hotel caterers allow you to come and go for a quick bang whenever you want. There's also a spa in almost every room, so you can enjoy a truly luxurious sexy experience for as long as you like. This way, you can make your quickie turn into a truly romantic one. Just book a room at your desired time through Hotel Orient's website and enjoy your visit.
The Artis Kino
The dark of the cinema can be perfect for some sweet sex with your partner. Choose the least popular film you can and come on a weeknight. You won't regret rolling around in the last row while the movie plays on the big screen. You can always get back to watching it once you're done. To top it off, you can enjoy a wonderful after sex nap, sitting in one of the soft cinema chairs. It would make for an outstanding Monday night. Check out the current program in the Artis Kino and book yourself a ticket.  A romantic movie will create the perfect mood for a quickie. Just go on and enjoy one tonight!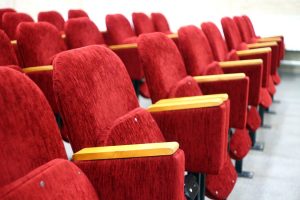 I don't dare to imagine how many horny couples did these seats justice.
A City Library
Sexy time in a library isn't just for the quiet nerdy types who love to bang while laying around between two bookshelves. It's great for anyone who wants a nice quiet place for a thrilling adventure. Vienna is filled with libraries that have very long open hours. You can easily find yourself a nice isolated place between two bookshelves, where you can have a sweet quickie with your partner. For example, Vienna's main library is open until 10 pm on certain days. You can check their work hours here to schedule a quickie at one of their quiet corners.
Amalienbad
Switching into your swimsuit doesn't have to be a fast process when you're doing it with your partner. A private little cabin is a perfect place for a quickie. You can refresh yourself with some sweet sex before you jump in the pool. See the layout of the place and find out whether it would make for a nice afternoon with your partner.
The London Phonebooth at Hundertwasserhaus
There is a red London phone booth in front of the Hundertwasserhaus, which you can share with your partner. It is the perfect spot for a quickie when you're walking up from a party at dawn. Just be careful because it's located next to the road. You'll definitely enjoy the view as the Hundertwasserhaus is one of the most beautiful buildings in Vienna. They also offer some amazing coffee and desserts.

This place has a view that stands out all across Europe.

The Bathroom in The Sacher Hotel
Have a few drinks at the bar and the two of you will set the mood for a wonderful romp. Just stroll to one of the clean opulent guest bathrooms and you're ready for business. They are perfectly clean and will prove to be one of the classiest public bathrooms you've ever seen. You can find out more about Hotel Sacher right here.
Car2Go
Car2Go is a car sharing membership service that you have to subscribe to. Subscribe, locate the nearest car and drive off to a nice, quiet place. Choose one where you can see the sundown or any other lovely scenery. It will be one of the most romantic getaways you could enjoy in Vienna. Just register to Car2Go and get a ride through their website.
The Wiener Staatsoper
The idea of a quickie is that it's random and mostly free, but this might be one of the most expensive quickies you ever had. So many people haven't ever thought of this. But imagine how awesome it would be to time your climax to the climax of an orchestra. You don't even need to be too quiet if you know how to imitate the sounds of a soprano or a trombone. If you don't mind blowing some cash on such an expensive quickie, you can enjoy a pretty amazing show as well. Just check out the Wiener Staatsoper's schedule.
Conclusion
You see? Vienna is the land of opportunity when it comes to quick romps. Who knows how many awesome options are there that we didn't even think about. Leave them in the comments if you know some!